Wireless Bluetooth Earphone Sleep Mask
Regular price
$58.00
$58.00
Unit price
per
or get it now with

for $20.30 AUD + 3 payments of $12.57 AUD Learn more
Tax included. We urge you to make your selection carefully as we are unable to accept this product for refund or exchange if you simply change your mind or if you made an incorrect purchase.
Shipping
Absolutely free within Australia.
Type: Wireless Bluetooth Earphone Sleep Mask
Material: Cotton, Polyester
Features:
Bluetooth wireless stereo music eye mask ----- It can connect to the mobile phone which support Bluetooth or has Hands free Bluetooth protocol and other portable devices which support AVRCP. Before using stereo Bluetooth music eye mask to answer the calls, please first finish the pairing of 

Instruction:
-Long press the key for 3 seconds for switching on/off.
-When powered on, it will pair with the latest paired Bluetooth device
automatically. If it is the first time to be used, the auto-pairing mode will be
activated.
-After pairing with the handheld device, you can short press to pause or play when the music is being played. In calling status, you can short press to answer the phone, long press to refuse and quickly double click to dial the latest coming call.
-When music is being played, short press the right key for the next song, long press for volume up; Short press the left key for previous song and long press for volume down.
Power supply: 200 mAh polymer battery inside the headband, PCB panel to provide battery with protection to keep working while charging. (Red light shows charging and turns off when fully charged.)

Function:
1.Music Player
2.Call volume adjustment
3.Make and answer calls
4. The use of mobile phone keypad dialling
5.Number redial to the last phone call
6.To answer incoming calls
7.Hanging up the phone
8.Reject the phone call

Package Included:
1 x Bluetooth eye mask
1 x Charging Cable
( No Retail Package)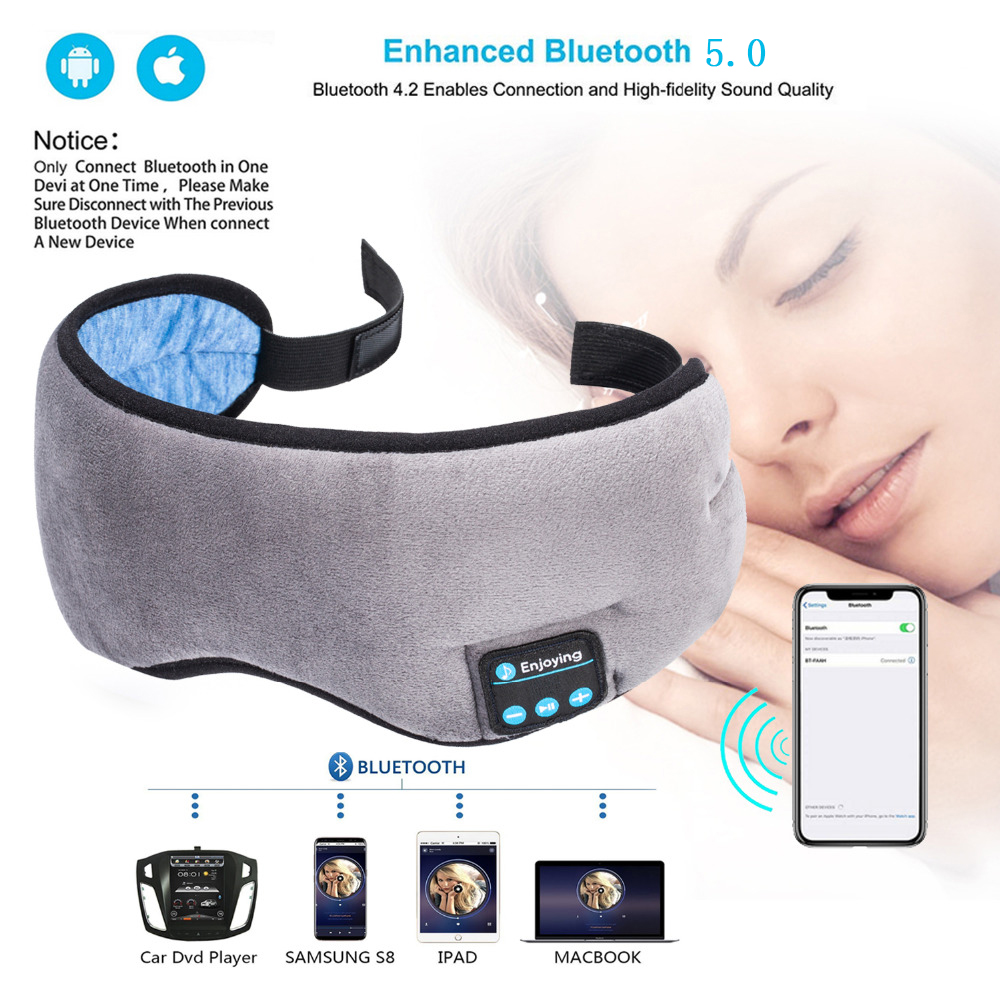 We believe that all our customers should feel safe when purchasing from our online store. Therefore, we have implemented a secure payment system to protect against fraudulent activity. In addition, we do not hold your credit card details after your order is completed, as they are submitted directly to our banks. If paying by debit or credit card, your account will be debited when you have completed Check Out. Payments made by PayItLater are subject to their terms & conditions.
We accept all the following forms of secure online payment:
     Credit cards via afterpay
Includes Visa and MasterCard https://afterpay.com.au. Select buy it now and follow the prompts. 
Credit cards via PayItLater
Includes Visa and MasterCard https://www.payitlater.com.au/. Select buy it now and follow the prompts.
   Internet banking via Poli Payments     
Includes Australian Debit Cards https://www.polipayments.com/Buy Select buy it now and follow the prompts.
  Bank Transfer via Poli Payments     
Includes Australian Debit Cards. 

You may opt to use Bank Transfer via Poli Payments using this link:  https://poli.to/bv9JP

Reference your payment with:
1. Your phone number and order number
2. Include your surname

Note: We will not be able to reconcile your payments if your order does not contain the above required information. Please note order confirmed does not mean your order is being processed. Once your payments clears our account, your order will be organised.
---
Share this Product
User-agent: CuteStat Disallow: /
---